Each year, the Association gathers for Jazz in Moulin-à-Vent. Its wine producers members are part of the best domains of the appellation, and they all want to promote the great wines of Moulin-à-Vent.
This pleasant day will enable  visitors to taste the wines of each wine producer, for a moment of privileged sharing.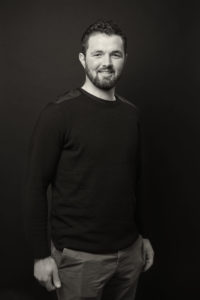 As the son of winemakers, I represent the 4th generation. After my studies and an experience in New Zealand, I joined by parents in 2019.
As a family estate, we share our experiences and skills. Since 2020, we are on our way to organic viticulture.
Our estate has 18 hectares on 6 appellations: Beaujolais-Villages, Beaujolais Lantignié, Régnié, Morgon, Fleurie, and Moulin-à-Vent.
Each cuvée is elaborated with respect to its terroir in order to express all its particularities.
– Pierre-Alexandre
Château Bonnet is a stately home dating from 1630. Formerly a hunting lodge, refuge of the poet Alphonse de Lamartine, it is now a family winery.
Pierre Perrachon (my grandfather), winegrower for several generations in Juliénas, acquired it in 1973. Since then, the passion for  winegrowing has never left the family. Pierre-Yves (my father) set up on the farm in 1987 and I joined him in 2014. I will definitely not be the only one of my siblings to make a living thanks to this fine profession.
We are producers on 20 hectares divided into 4 Beaujolais Crus: Chénas, Juliénas, Saint-Amour, Moulin à Vent, as well as village appellations (white,rosé and red).
Our work philosophy is to be as close as possible to our land and our terroirs, in a sustainable and eco-responsible way, thus our wines are certified Terra Vitis.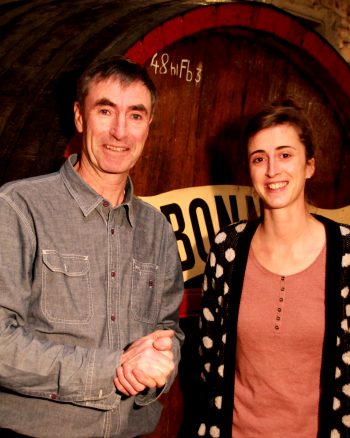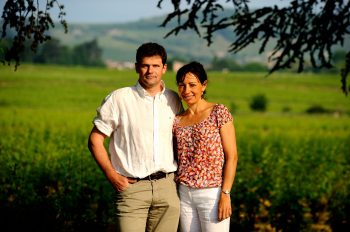 We have occupied the property since 2007 and cultivate 3.75 hectares of vines in Moulin-A-Vent, an exceptional area. They are developing the ambitious project of rejuvenating the castle, its park and its outbuildings, a reminder of the past and the an art of living in harmony with nature.
– Nathalie & Eric Boyer
Gamay is a noble and unique grape variety, son of Pinot Noir, and our Beaujolais crus have long belonged to the family of the great red wines of Burgundy. The vines of Château des Jacques are spread over six crus and are located in the most beautiful climates.
Here, we rely on traditional winemaking methods – long maceration after careful sorting of the grapes, destemming, aging in oak barrels, producing dense, silky wines with definite aging potential.
– Cyril Chirouze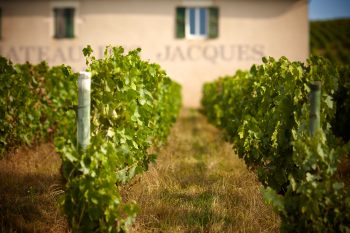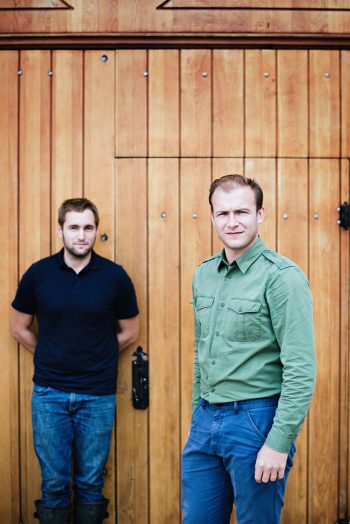 A benchmark estate since 1732, Château du Moulin-à-Vent is located at the heart of the eponymous appellation. Formerly called the Château des Thorins in reference to the most famous terroir of the appellation, the estate changed its name when the first AOCs were created in 1936, these included Moulin-à-Vent.
Here, Gamay is king. For nearly three centuries, generations of winegrowers have succeeded each other at the Château to cultivate this grape variety with a strong identity which produces fine, fruity and elegant wines. From old vines (50 years on average), Gamay is planted in high density on poor granite sands beaten by the winds. It produces little here (30 Hl/ha on average), but it produces great.
Reconciling production quality and environmental commitment has been at the heart of our approach for many years. Soil work, biological treatments, absence of insecticides, enhancement of ecosystems by the presence of hives, mass selections, biodynamic plots: all these practices, in the vineyard as in the cellar, are benefitting biodiversity.
Everything is thus implemented by our family estate and harvested up to 100%to reveal the diversity and grandeur of the most noble terroirs of Moulin-à-Vent.
– Edouard Parinet & Brice Laffond
Domaine de Rochegrès - Maison Albert Bichot
Maison Albert Bichot – historically established in Chablis, Côte de Nuits, Côte de Beaune and Mercurey with its five estates covering nearly 100 hectares of vines – acquired the Domaine de Rochegrès in Moulin-à-Vent in 2014.
The estate extends over 5.2 ha and is ideally located in the heart of the "Rochegrès" climat which, as its name suggests, sees the granite bedrock outcrop in the middle of the vines.
Albert Bichot produces two distinct cuvées there: a Moulin-à-Vent vinified from grapes from the terroirs of "La Rochelle", "Au Mont" and the youngest vines of "Rochegrès", and a parcel-based cuvée called "Rochegrès" from very old vines (80 to 100 years old) located exclusively in the heart of the "Rochegrès" climate.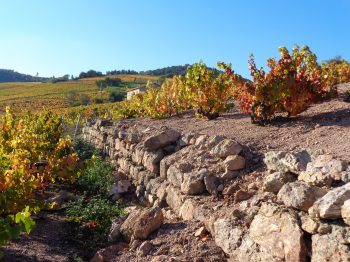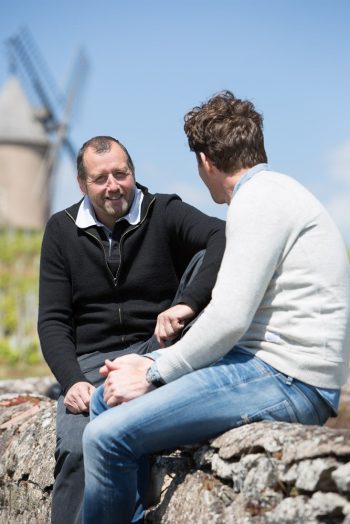 The Moulin-à-Vent appellation dates back to 1924, but by 1918, our family already had winegrowers on these hillsides.
The estate is located in the locality of "La Rochelle" in the heart of the Moulin à Vent appellation. This site displays a small rocky hill of granite which is evocative to us of  the name of our property "Domaine du Granit", referring to the quality of the terroir and to our ancestors.
Today, the Domaine du Granit, with a surface area of ​​12 hectares, is spread over 4 Crus, 9.5 ha of which produce Moulin-à-Vent annually, from the best terroirs "Aux Caves", "La Rochelle", and " The Verillats".
– Franck Bessone
Since 1907, our domain has been formed and extended on the famous terroirs of the Moulin-à-Vent appellation.
Always looking for the best show of our terroirs, we work in a way which is considerate of the environment.
The estate offers two cuvées, one produced on the "Les Thorins" terroir and the other on the "Champ de Cour" terroir.
– Philippe Guérin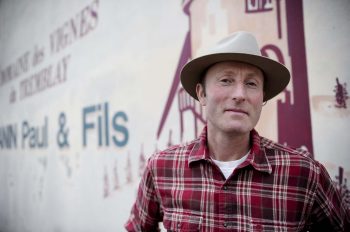 Domaine Paul Janin & Fils
Within the word 'domaine', we find 'main', meaning 'hand' in French. The hand symbolises work, dexterity and identity. It also gives care, contact and sharing, accompanied by a mind constantly in motion.
Jean-Claude, Marcel, Paul and myself: craftsmen from the outset. Our hands are the raw material of our winegrowing profession, just as grapes are the raw material of wine.
In our estate, these two materials have been in contact incessantly; they remind us of the past, anchor us to the reality of the present and launch us towards the future.
 – Eric Janin
Domaine Louis Boillot & Fils
My father Louis Boillot took over this small domain of 4 ha in Moulin-à-Vent in 2013. From the Beaujolais region, he wanted to go back to its roots. The vineyard is composed of old vine plots over different climats of the appellation.
We work with Gamay the exact same way we work our Burgundian Pinot noir. Each plot is vinified separetly in a "classic" style to express each difference of our terroirs. 
– Clément Boillot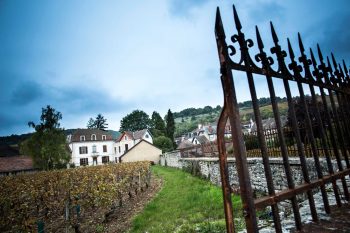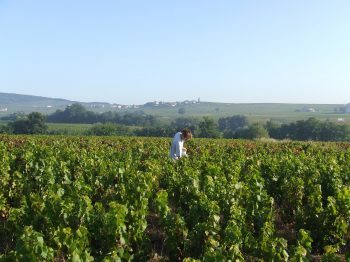 I created this vineyard in 2007 by taking over this 3 ha estate of old 40 to 80-year-old vines and I make wines which are representative of this unique Moulin-à-Vent  terroir.
Today my 10-hectare vineyard is completely organically farmed. I offer Moulin à Vent cuvées from different one-of-a-kind terroirs of the appellation, with the desire to best express the minerality and finesse of the aromas.
– Richard Rottiers
We are a family of five: parents, Paul and Danielle Lardet and three children: Delphine, Jocelyn and Stéphane. We are hedonist at heart. We take absolute care to bring the best to our soil. "Le Nid" or "The Nest" as we have baptised our vineyard, is the symbol of our unity and overwhelming desire to preserve it. Our cellar master and oenologist support us in our vision.
Sustainable agriculture is a good fit for us. All the work is done by hand on our 12 plots, 2 of them "La Rochelle" and "Rochegrès" are destined to single vineyard selection wines with aging in oak barrels. The bottling of our wines is carried out at the estate.
– Famille Lardet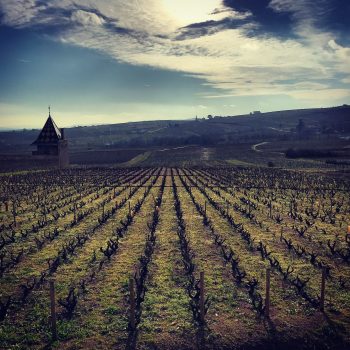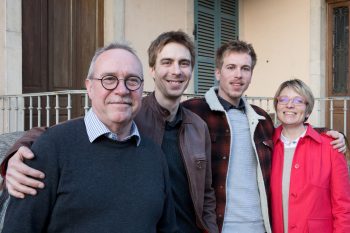 "Our story started in January 1987 when we took over an ancient domain located at La Roche Vineuse. This is where we decided to settle and work, not because we inherited it, but because we love this place and we believe that we can make really good wine here by respecting the vines needs: tillage and harvest by hands. In the cellar: long pressing in full clusters, fermentation and ageing in oak barrels. Always getting to the point, being innovative, living in harmony with the seasons, sharing our passion and values, in an open-minded way.
Today, with our children, we want to keep this domain small and take time passing down our know-how."
– Olivier & Corinne
The genesis of the estate's creation in Moulin-à-Vent was born from the desire to acquire the best plots in the sector, all located on the historic hill of the appellation and overlooked by the windmill. The objectives are to understand and produce wines resembling their climate and its grape variety: Gamay.
The first plots were purchased in 2008 and produced their first vintage in 2009. We reproduced the same working methods as the Nuits Saint Georges estate by reinstating plowing practices and eliminating all weedkillers. From the first year on, we converted all the plots to organic and biodynamic farming.
The work we try to do in the vineyards aims to awaken the soil and its terroir, for the roots to go deep into the soil's identity and transcribe it to the grapes so that each terroir is individually revealed in each of the 6 cuvées we produce.
– Thibault Liger-Belair