Each year, the Association gathers for Jazz in Moulin-à-Vent. Its wine producers members are part of the best domains of the appellation, and they all want to promote the great wines of Moulin-à-Vent.
This pleasant day will enable the visitors to taste the wines of each wine producer, for a moment of privileged sharing.
The Perrachon family is winemaker in Beaujolais since 300 years ago. Château Bonnet is their property since 3 generations (the castle and cellars are dating from the XVII century).
It is a real family estate; Pierre-Yves and Marie-Luce are working with their children Charlotte and Julien.
The estate covers 20 hectares of vines in the best part of the area such as Chenas, Moulin-à-Vent, Juliénas, Saint-Amour and Beaujolais Villages (white, rosé and red). Beaujolais Crus of Château Bonnet are well known and awarded in France but also at international competitions.
Château Bonnet is commited to produce their wines in a sustainable, responsible and ecologic way. So on each bottle, you will find the "Terra Vitis" logo which proves this commitment.
They are doing their best in vine works from fruits to the ageing of wines until the bottling.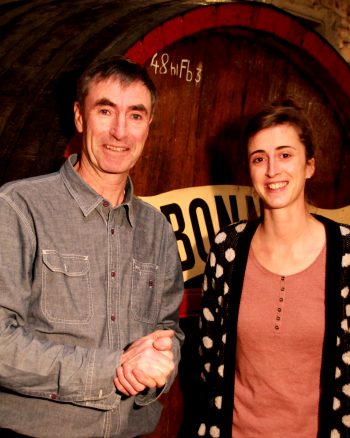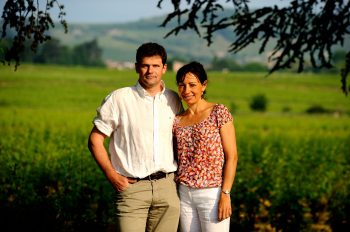 Like all old estates, the Château des Gimarets has a rich history and has produced Moulin-à-Vent wines for 4 centuries.
The Château des Gimarets winery started in the 17th century, during the reign of Louis XIV, when Molière was giving his plays, Lully composing his music and Rembrandt his paintings. The castle was built in 1650 on the foundation of a Roman Villa already surrounded by vineyards.
Eric and Nathalie Boyer have owned the estate since 2007, modernized its equipment and grown 4.4 hectares of vineyards. With their ambitious project of nature-conscious wine growing, they have produced a top-quality wine which has regularly won medals.
Gamay is a noble grape, son of Pinot Noir and we use a traditional vinification methods. This includes a long period of maceration that comes after a careful selection of the best fruits and a thorough destemming, followed by a periode of maturation in oak barrels to produce silky, delicate wines.
Our Beaujolais crus have a rich history which has always belonged to the great red wines of the Burgundy family. The 88 hectares of Château des Jacques are a great asset.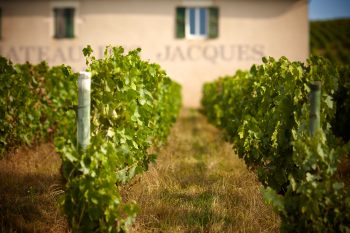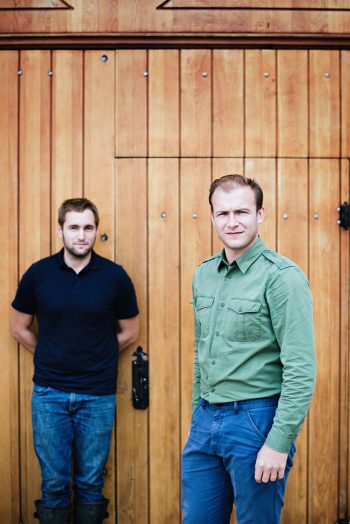 An emblematic estate since 1732, the Château du Moulin-à-Vent sits in the very heart of the appellation, 200 yards behind the 15th century-old windmill. Formerly called the Château des Thorins, the estate changed its name when the AOC was born in 1936, but the Château still stands on the flagship terroir of the appellation: Les Thorins. 
In 1872, as Gevrey became Gevrey-Chambertin or Puligny became Puligny-Montrachet, etc., the village of Romanèche took the name of its most famous grand cru to become Romanèche-Thorins.
Today, the family-owned estate has 74 acres of vineyards, exclusively in the Moulin-à-Vent appellation. The Parinet family, along with Brice Laffond, foster a strategy fo excellence and a meticulous approach guided by the very identity of their exceptional terroirs.
Domaine de Rochegrès - Maison Albert Bichot
Covering 5.2 hectares of the 660 hectares of the Moulin-à-Vent appellation, the vines are ideally located at the heart of the Rochegrès single vineyard where, as its name suggests, the granitic parent rock (roche) is visible at the surface of the soil amid the rows of vines. This exceptional and distinctive location uncontestably desfines the profile of these structured, fleshy wines that boast an impressive range of floral aromas.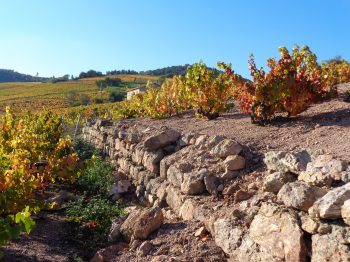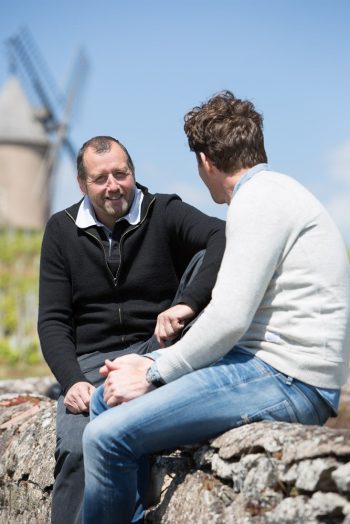 The designation Moulin-à-Vent exists since 1924, but our family already had winemakers working on the fields since 1918.
4th generation of winemakers on this domain, we are doing our best, using modern techniques associated with old vinification methods transmitted by our grandparents and parents, to maintain a quality and typicality of our Moulin-à-Vent, Fleurie, Chenas and Saint-Amour worthy of the reputation of great wines.
Since 1907, the domain has been created and has extended over the terroirs of the Moulin-à-Vent appellation. Philippe Guérin took over the domain in 1985, and widened it by buying vines over the emblematic terroir "Les Thorins". Each wine is harvested by hand. They are harvested, vinified and bottled at the domain. "Family of wine producers for 3 generations, in true craftsman, we dedicate ourselves to vines and the wines."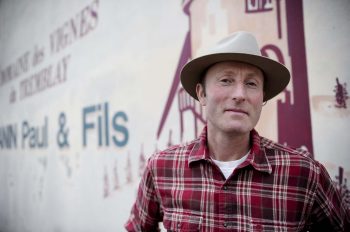 Domaine Paul Janin & Fils
"Within the word 'domaine', we find 'main', meaning 'hand' in French. The hand symbolises work, dexterity and identity. It also gives care, contact and sharing, accompanied by a mind constantly in motion.
Jean-Claude, Marcel, Paul and myself: craftsmen from the outset. Our hands are the raw material of our winegrowing profession, just as grapes are the raw material of wine.
At our domain, these two materials have been in contact unceasingly; they remind us of the past, anchor us to the reality of the present and launch us towards the future." – Eric Janin
Domaine Louis Boillot & Fils
Louis Boillot took over this small domain of 4 ha in Moulin-à-Vent in 2013. From the Beaujolais region, he wanted to go back to its roots. The vineyard is composed of old vines plots over different climats of the appellation.
We are working on the gamay the exact same way that we are working on our Burgundian pinot noir. Each plot is vinified separetly in a "classic" style to express each difference of our terroirs.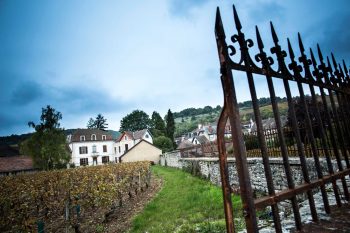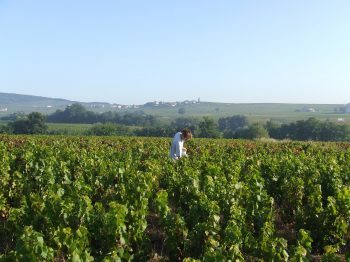 "I created this vineyard in 2007 by taking over this 3 ha estate of old vines between 40 and 80 years old and I vinify representative wines of this Moulin-à-Vent unique terroir.
Today at the head of 7 ha, I started an organic conversion in 2012.
My settlement at Romanèche-Thorins is due to my meeting with my partner Corinne and the discovery of a terroir with a fascinating history, evolution and potential." – Richard Rottiers
We are a family of five: parents, Paul and Danielle Lardet and three children: Delphine, Jocelyn and Stéphane. We are hedonist at heart. We take absolute care to bring the best to our soil. "Le Nid" or "The Nest" as we have baptised our vineyard, is the symbol of our unity and overwhelming desire to preserve it. Our cellar master and oenologist support us in our vision.
Together, we have refined the growing and wine-making process whilst still respecting tradition. We have brought a new spin to the Domaine in line with our core values: family, terroir, hedonism, authenticity.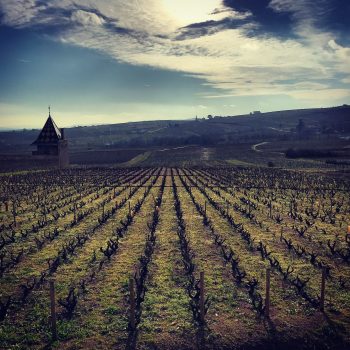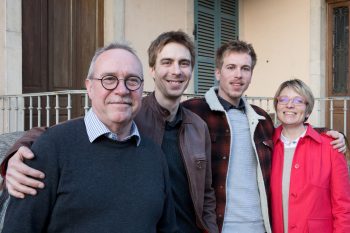 "Our story started in January 1987 when we took over an ancient domain located at La Roche Vineuse. This is where we decided to settle and work, not because we inherited it, but because we love this place and we believe that we can make really good wine here by respecting the vines essentials: tillage and harvest by hands. In the cellar: long pressing in full clusters, fermentation and ageing in oak barrels. Always getting to the point, being innovative, living in harmony with the seasons, sharing our passion and values, in an open-minded way.
Today, with our children, we want to keep this domain small to take the time to pass down our know-how." – Olivier et Corinne
I have made a part of my studies in Beaujolais and in particular in Belleville, I've always been attracted by the beauty of this region, its landscapes but also by the quality and diversity of the soils.
I have ask the question to create a sort of Burgundy model by isolating each terroirs inside the same appellation, to understand and try to find the best identity of each one.
The Beaujolais region represents the tip of the Massif Central, mainly composed of old granites. Granite is a hard rock, poor and well suited to the gamay grape that is generous. It is located a hundred kilometers of Nuits-Saint-Georges.